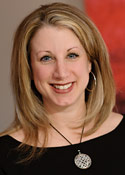 Rebecca Oelkers serves as the VP of Operations of the Sage Day Schools and New Alliance Academy. She holds a master's in Social Work from New York University and a bachelor's degree in Sociology from Pine Manor College. Before joining Sage Day Schools and New Alliance Academy, she was the Program Director for an inpatient Children's Crisis Intervention Services unit serving children and adolescents with emotional and behavioral health challenges and worked closely with the New Jersey Department of Child Behavioral Health Services.
During her tenure, Rebecca facilitated training as a Crisis Prevention Institute certified instructor and was designated as the performance improvement coordinator within the hospital's behavioral health division focusing on program design and delivery. She participated in the development of outcome assessment parameters and clinical performance monitors, to improve individual and organizational effectiveness. Her determination and commitment to providing quality programs are one of her core values.
Rebecca has provided psychotherapy to children, adolescents, and adults and has served as a community relations coordinator in the behavioral health division for a private hospital. These experiences provided her a greater appreciation for the challenges children and families face when programs do not fit their needs.
With 25 years of experience serving as a clinician and administrator, Rebecca is dedicated to one simple vision; to offer a unique educational environment that is therapeutic, supportive, and nurturing for all students to reach their full academic potential and whose current needs cannot be met in the public-school setting.
Rebecca Oelkers
VP of Operations