Address
295 Rochelle Avenue, Rochelle Park, NJ 07662
Fax: 201-291-2190
Hours: Monday, Tuesday, Thursday & Friday 8:00-2:30 pm Wednesday 8: 00- 12:30 pm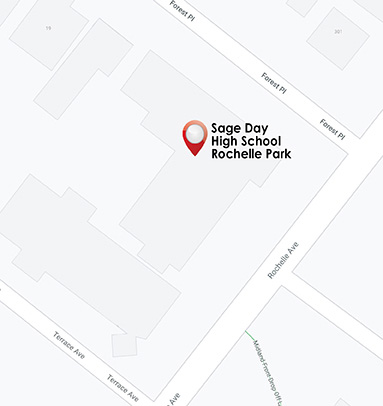 Mission Statement

To provide a safe, small therapeutic and challenging educational community that integrates social, emotional and academic growth through the collaboration of students, families and staff to empower and prepare students with the skills needed to realize their potential and achieve success.

School Leadership

Robert Friedland, M.ED., Principal, and Audrey Stone, MSW, LCSW, Clinical Director, invite you to learn more about this location and the services we provide for students with special education needs.

Robert Friedland, M.ED.

Principal

Audrey Stone, MSW, LCSW

Clinical Director

School Services

Sage Day Program, including...

Individual Therapy and Group Therapy
Therapeutic Services
Academic Program
Transition Program

Graduate Profile

Emotionally Secure

Demonstrates Personal Accountability, Agency, and Adaptability
Demonstrates Respect for Self and Others
Acts with Integrity
Demonstrates Honesty
Commits to Emotional Growth of Self and Others

Socially Responsible

Develops a Balance Between Independence and Interdependence with Others
Takes Initiative
Communicates and Collaborates Effectively with Others
Is Socially Aware and Responsible
Recognizes, Understands and Respects the Diversity and Uniqueness of Others
Demonstrates Financial Literacy

Academically Capable

Possesses the Life Skills Necessary for Success in a Rapidly Changing Society
Possesses Technological Competency
Possesses Media Fluency
Articulates Confidently, Clearly, and Imaginatively
Creates and Learns from their Inquiry and Experience
Achieves to their Highest Potential
Commits to Academic and/or Vocational Growth

School Calendar

Please download Rochelle Park's school calendar to view important dates for this location.