Blog
The Effects of Social Media on a Teenager's Self-Worth
Posted: January 01, 2021 | Written By: Sage Day | Category: Emotional Health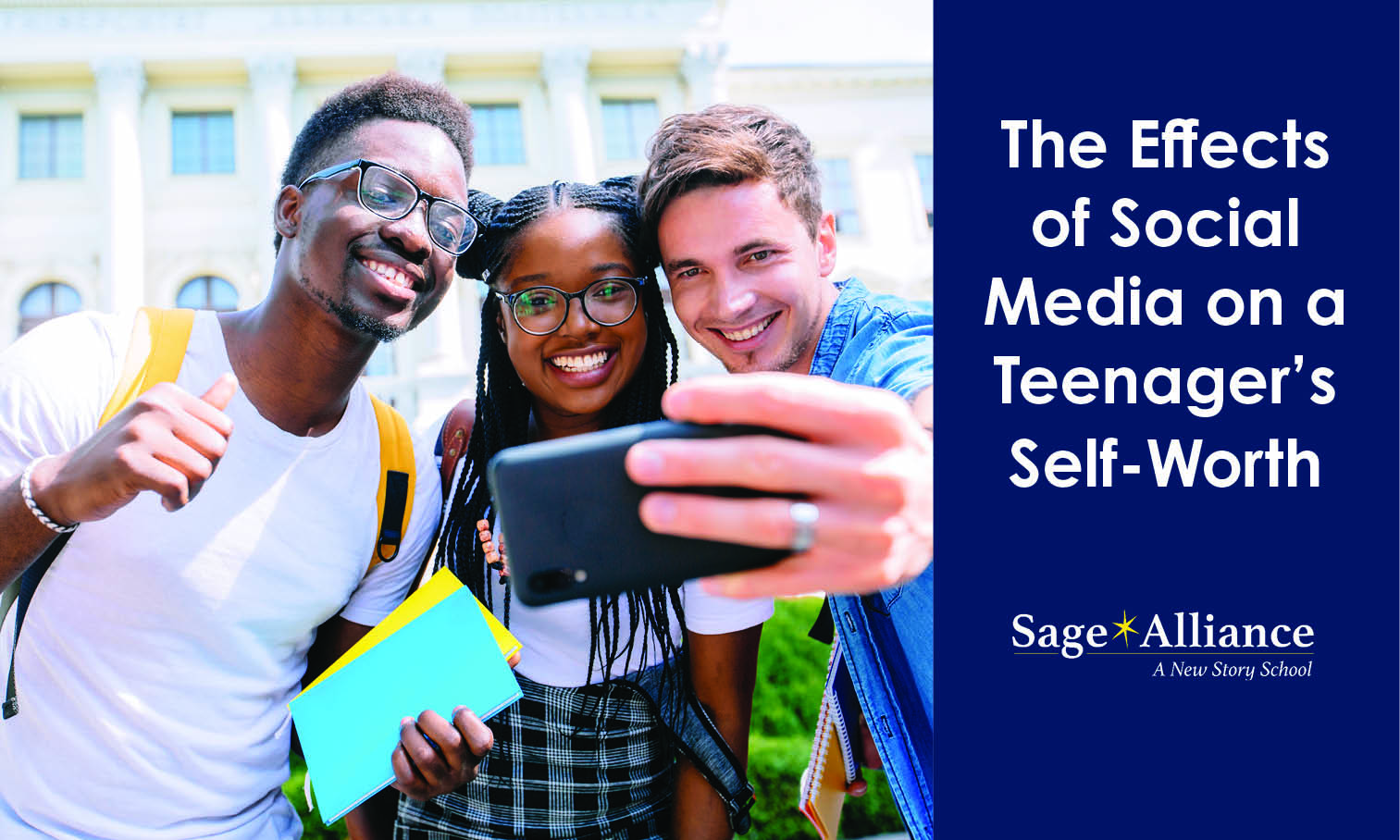 As children grow up, they learn about the world around them from a wide range of influencers. From their parents instilling values and morals to teachers instructing them on the finer points of language and history, a teenager's day is filled with information and societal cues on how to behave and what is important in life.
Sage day knows that students need support and a healthy learning environment in order to succeed socially and in the classroom. With the rise of social media in recent years, teenagers are now flooded on a daily basis with news, entertainment, and a never-ending link to what others their age are up to at all times. As a result, they are bombarded with stories and images that shape their worldview, and convey ideas about what is seen as "normal" and "important" by their peers.
This can be problematic for teens, as well as their parents, because individuals that do not fit the mold can feel cast aside by their classmates. Social media then becomes a constant pressure for teens that feel left out, which has significant effects on their feelings of self-worth and self-esteem.
In an effort to combat anxiety, depression, and stress, it is important for parents to understand the technology their teens use every day, how it can have lasting negative affects on their emotional state, and what you can do to help relieve them of the pressures they face.
Technology, Social Media, and Teenagers
It is extremely rare in today's world for a teenager to not have a presence on at least one social networking site. Whether they are posting photos to Instagram, sending messages to friends through Snapchat, or keeping up with the latest gossip on Twitter, teenagers are more connected with each other today than ever before.
The recent boom in the mobile technology industry has made access even easier. Even compared to high school students who graduated within the last 10 years, teenagers today are more tuned in to what is happening at all times. In addition to competing with friends and trying to impress one another, social media has also become a more direct link for advertisers wanting to get in front of as many pairs of eyes as possible.
Not only is technology used by teens today to research a topic for an assignment; it arguably is also the cornerstone that links every aspect of their lives into one reality. For example, a teen today can use her phone to gather material for a project, take photos while on vacation, catch up on news, read a book for class and watch live TV, all without having a face-to-face interaction with another person.
An important thing for parents to understand is that technology, and especially social media, is used as the primary way to consume information about everything that is important for your teen. From the moment they wake up until right before they fall asleep, you can bet that your teen checks his or her social media profiles for updates and information regularly – quite commonly multiple times each hour.
Teens not only interact with their friends and stay current on pop culture through social media, but it is also one of the main ways for your son or daughter to get a sense of validation from their peers. One of the major characteristics that makes social networking sites such a draw for users of any age is that they provide instant feedback about whatever is posted.
Negativity, Confidence, and Self-Esteem
While technology and social media have taken great strides in connecting people all around the world, they are not without their dangers. When it comes to social media, there can be profound effects on a person's confidence and self-esteem, simply based on their interactions with others online.
According to the Dove self-esteem project, a recent study conducted by Florida State University and published by the International Journal of Eating Disorders found that "a group of women, who were asked to browse Facebook for 20 minutes, experienced greater body dissatisfaction" than others who did not.
In essence, there is something about social media that could easily contribute to lower self-esteem and keep us from a positive state of mind. Sage Day works to provide students with a therapeutic education so they can get the social and emotional support they need to cope with the effects of social media.
While the existence of social media is not a factor in lowering someone's self-worth, there are many variables that play into how a teenager is affected in the following areas:
Body Image – Not too long ago, people learned about the latest fashion trends and celebrity news by reading magazines or watching television. Nowadays, teenagers are constantly hit with an unending stream of information, including gossip, "Hot or Not" features run by popular media outlets, and one advertisement after another. Social media is an immediate avenue for traditional media to push out stories and images to the masses. It is easy for teens to make a connection between what types of people they see represented in photos and ads on social media and, if they don't fit that mold, they can develop body image problems. Throw in the countless number of their peers sharing while at the beach or working out, and you have a recipe for someone to feel different, and, therefore, inferior.
Fear of Missing Out – Along those same lines is the "fear of missing out," or FOMO. Teenagers see all of their friends going to parties, concerts, and trips, and feel an intense pressure to keep up so they are not left out of the group. Not only do they feel anxiety that others their age may find something "cool" that doesn't align with their interests, social media can unfortunately break the news to a teen when they haven't been invited to take part in something. This can lead to lower self-esteem and feelings of depression.
Stress – In recent years, social media has also given new resources to bullies, who can now continue to torment classmates even when not in school. By constantly having to worry about what is being said about them on social media, teenagers have an added source of stress in their lives, in addition to other social pressures and academic expectations. Social media causes a predicament for teenagers because it is their main hub for information, but it is also something that can cause a great deal of pain and anguish.
The use of social networks can increase anxiety, and participants in one study said that social media made their lives and their self-esteem worse, according to Alternet.
How Can Parents Help?
Having open and honest conversations with your teenagers about their use of social media is an important step because it will help you understand what they are going through. Rather than make accusations or impose restrictions related to time spent using social media, make sure your teen knows best practices in terms of posting behavior and respect for others. Beginning a dialogue will also help communicate to your teen that they can share their feelings on how they are affected on social media.
If you notice a change in your teenager's mood, such as lower self-esteem, changed eating habits, or increased stress, it is important to talk with professionals for advice. A complete shutdown of social media accounts is not the answer, but, by allowing your teen to enter into a supportive environment, they will learn how to overcome anxiety and depression, and leave everything behind them as they move on in life and succeed. Learn more about Sage Day and the positive effects that a therapeutic high school has on a teen by contacting a representative today at (877) 887-8817.
Sources:
Contact an Admissions counselor at any of our four Sage Day campuses, to learn more about our programs, and whether one of our therapeutic schools is the right fit for your child in middle or high school.
Want to be notified of new articles and resources from Sage Alliance? Click here to submit your email and opt into our newsletter.