Blog
Preparing for College while Dealing with Depression and Anxiety
Posted: October 19, 2015 | Written By: Justin Gerwick | Category: Teen Depression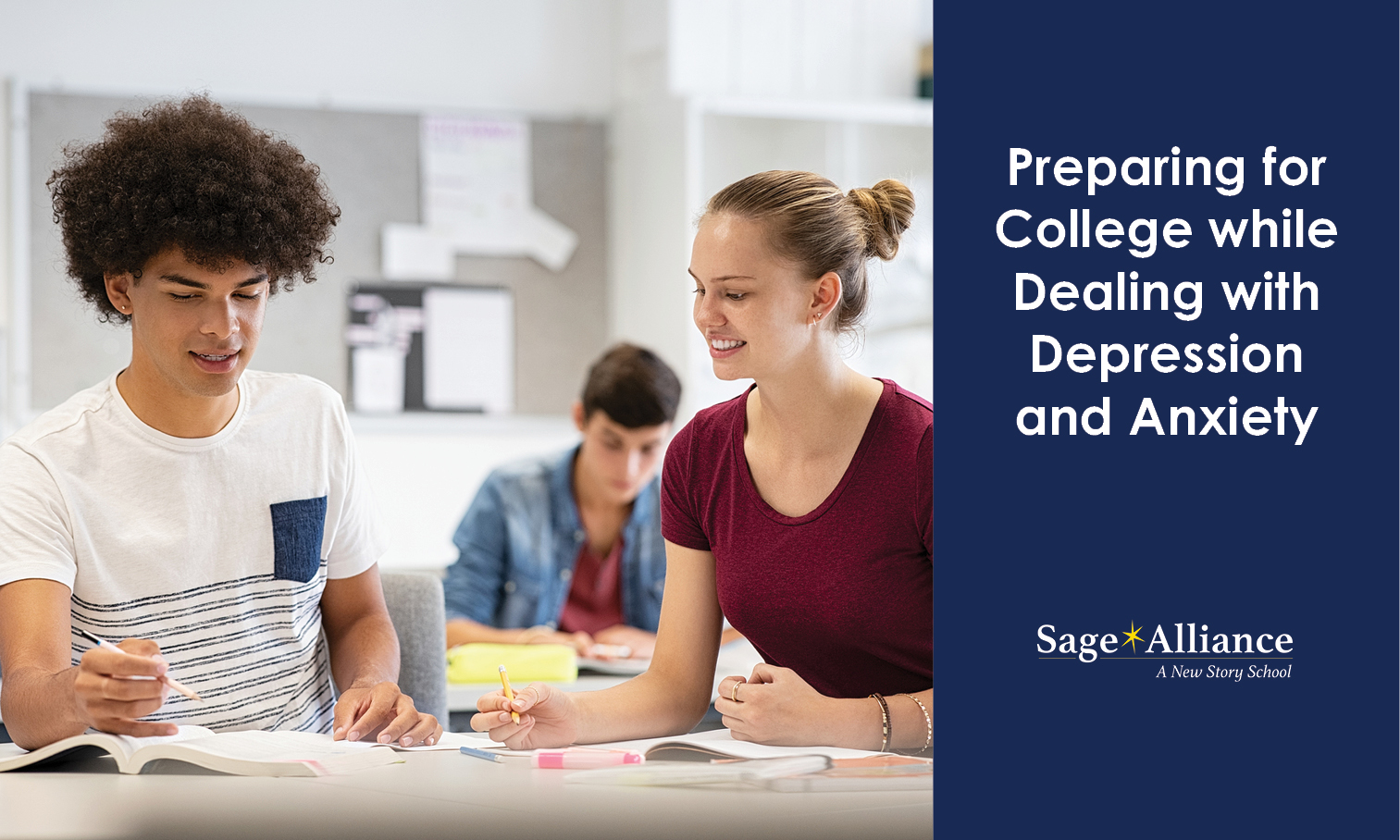 By Yael Adler
Depression and anxiety often work together so that one causes the other. This is hard enough to deal with in daily life, but, when changes are imminent, it can be almost too much. For teens that are getting ready to go off to college, the anxiety can be almost crippling. The good news is that at the root of the issue is a seeming lack of control, something more and more therapeutic high schools are beginning to address as they help their students prepare for college. 
Is College the Best Choice? 
For some, college seems to be the natural step that follows high school. For others, college simply isn't something that is necessary for future goals or doesn't work well with existing skills and interests. That's why the first step is to research career options and compare them to an existing skill set and interest level. Sage Alliance, for instance, has a College and Career Transition Department that helps students explore the most appropriate course of action for each student, placing emphasis on the best fit that will set the student up for success. The Transition Coordinator works with each student to map out a plan after high school and works on interview skills, essay writing and other important skill sets that are important to life post-graduation. For the student, just having a clear direction can relieve some of the anxiety they feel. 
Select a College 
If college is the most appropriate choice, then the next step is to find a college that provides the academic tools the student needs, while also looking for ways to reduce stress. For example, if the student is in need of some academic or counseling support, it is important to find a school that has resources like a tutoring center and counseling center that can provide that assistance. On a college visit it would be good to meet with some key staff from those centers so the student can learn about the support offered and gain a familiarity and connection to the center. If financial issues are a concern, the student needs to fill out the FAFSA before they settle on a school so they can see what their financial obligations are, and to look for options like grants and scholarships to meet those obligations. College size is another factor to consider. A smaller school might provide more one-on-one support that might be needed if the student is prone to high levels of anxiety, as opposed to a larger school, which could cause the student to feel immediately overwhelmed. 
Explore Social Avenues 
Anxiety and depression are cultivated through a lack of control. When people feel like they have no control over a situation, their anxiety soars. Teens are already at risk for this because there they are expected to make adult decisions about their future. The social aspect of college is something that is important to keep in mind and it might be helpful to ask the following questions: Does the college have clubs or social activities the teen would be interested in? Do they place any kind of focus on the particular topics the teen enjoys? 
College isn't just about academia. A large part of the experience is the social aspect. It's important for the teen to understand that he or she isn't alone as they navigate this arena. This is one way that therapeutic high schools make such an enormous impact. Teens aren't just taught academics, but they are encouraged to focus on developing their inner self as well. To help them prepare for college or the workforce, it's a good idea to look for a place that will help students further develop their inner selves so that they can share in and embrace the social atmosphere that comes with high level education. 
Want to be notified of new articles and resources from Sage Alliance? Click here to submit your email and opt into our newsletter.